Driving Towards a Greener Future


40+ Years
of experience


30+ Yard
Locations


1,600+
Trucks


6,000+
Trailers
Where Sustainability Meets Efficiency
With over 40 years as a leading player in the trucking industry, we have developed a profound understanding of the importance of staying focused on what truly matters – delivering affordable and reliable transportation solutions that meet the specific needs of our valued customers. At Mesilla Valley Transportation, our strategy revolves around leveraging our core strengths to provide sustainable trucking solutions that contribute to a greener world.
We are dedicated to providing lower carbon energy solutions that align with our customer's goals for reducing CO2 emissions. Through our ongoing efforts, we are achieving tangible results in real-time and driving the future of sustainable trucking.
Actively investing in our fleet's sustainability, we solely use only a biodiesel B20 fuel mix at our primary terminals. Through 40+ years of experience and testing, we achieve best-in-class fuel economy relative to our peers. Moreover, we implemented generous driver incentive programs that encourage fuel-efficient practices, ultimately reducing our carbon footprint across multiple customer verticals. By prioritizing these initiatives, we are committed to promoting environmentally friendly transportation solutions and positively impacting the planet.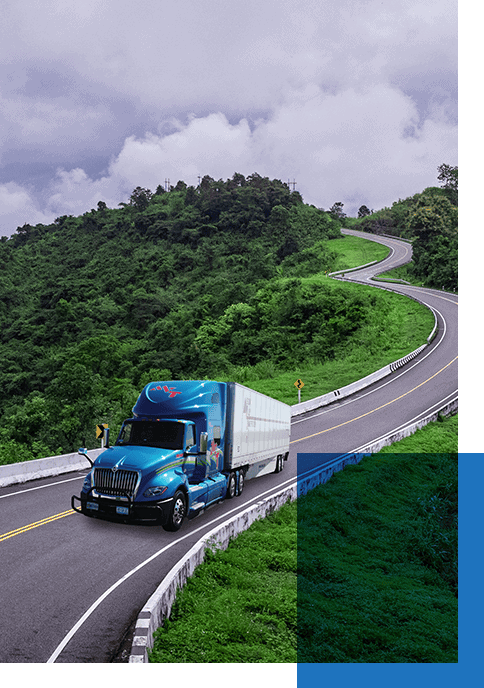 Moving Forward, Moving Green
Reducing our Carbon Footprint
Best Fuel Economy of any fleet in North America
B20 Biodiesel used at terminal fuel stations
Continuous fuel economy testing with MVT Solutions
Late model International LTs with custom aerodynamic packages
Specialized driver training in MPG and idle time
Full aerodynamic packages on all trailers
Reuse oil for EnergyLogic heaters in shops

SmartWay certified for over 11 years
Retread tires on trucks and trailers
Cardboard and battery recycling

MVT BIOFUEL CREDIT FOR B20
Driving a Greener Future with B20 Biofuel
Biofuel is a renewable fuel derived from organic materials like plant or animal waste. B20 biofuel, specifically used by Rio Valley Biofuels, blends 20% biodiesel with 80% petroleum diesel. This blend significantly reduces greenhouse gas emissions compared to traditional diesel, contributes to energy independence, and is compatible with many engines.
Driving Cleaner, Greener Miles with MVT's B20 Biofuel
MVT takes sustainability seriously by providing B20 fuel for its truck fleet. Located at the main terminal in El Paso, this eco-friendly option reduces carbon emissions and supports cleaner operations. MVT's commitment to greener fuel choices drives its dedication to a more sustainable future.
MVT TOTAL POUNDS OF CRBON SAVED

Becoming Part of the Change
Start making a positive impact by choosing Mesilla Valley Transportation (MVT) for your transportation needs. With MVT's eco-friendly practices, including B20 fuel and sustainable solutions, together we can create a greener and more sustainable future. Act now and be a part of the change!