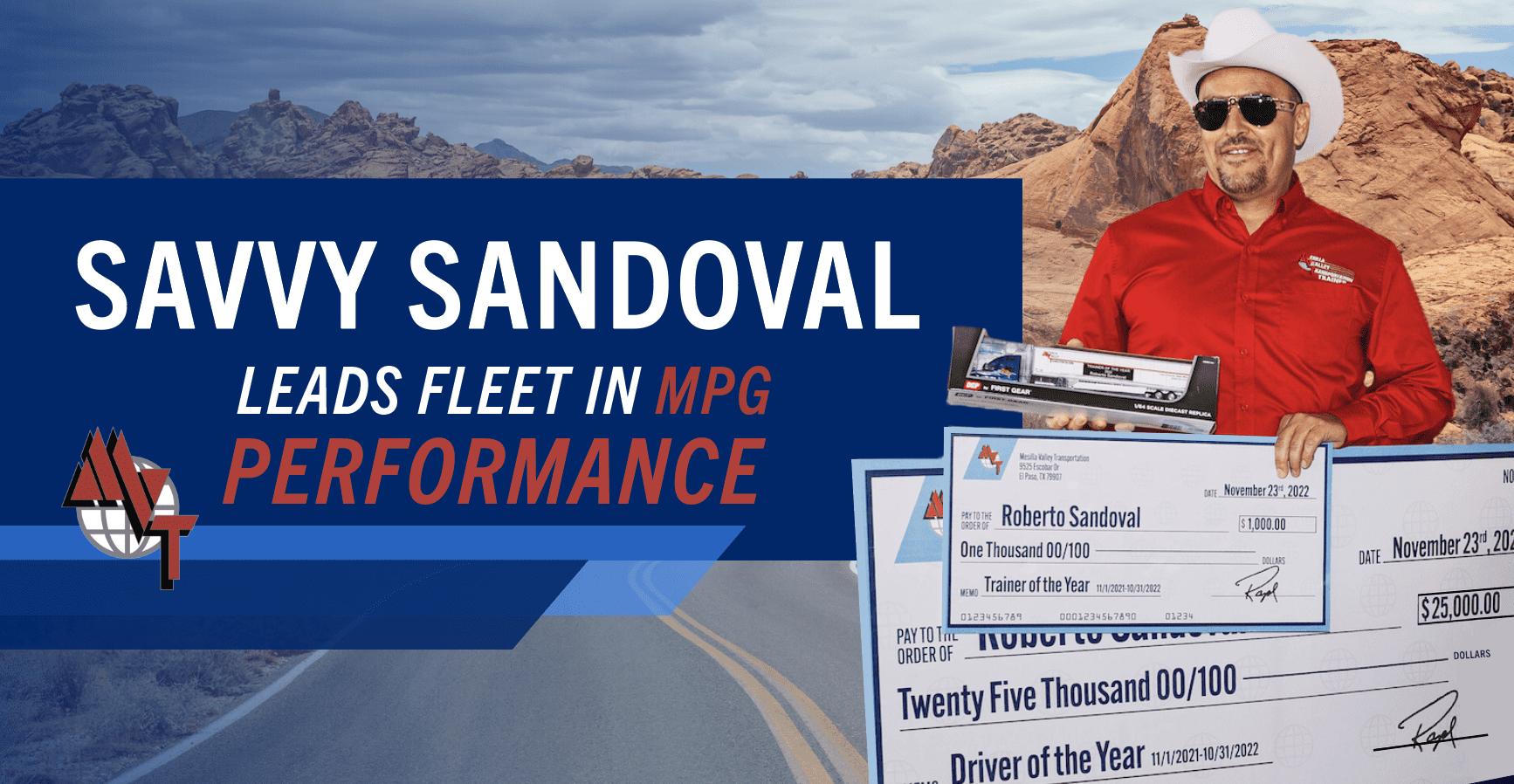 By Al Muskewitz
Roberto Sandoval became a professional truck driver because he saw it as a solid, steady job with good pay to provide for his growing family.
It has done just that in the 22 years he has been driving for Mesilla Valley Transportation. He has gotten so good at the way he goes about it, in fact, he has developed a pretty nice second income in recent years.
The 52-year-old El Paso, Texas driver with more than 5 million miles under his wheels has literally become the face of MVT's fuel efficiency program, winning the carrier's MPG Driver of the Year bonus four of the last five years and collecting a cool $100,000 for his commitment.
"For me, it's been very good," he said. "It's very helpful for my family and my home. We live good."
Sandoval won the 2022 award for squeezing out a fleet-leading 12.34 MPG and 1.76 percent idle time for the 284,897 miles he logged during the calendar year on a run that typically takes him back and forth between Nashville and California. (During this conversation he was somewhere near the Kansas-Colorado border in the middle of a run to Portland, Ore.).
That's a lot of different terrain to cover, which challenges his commitment to conserving MPGs.
"I was very, very happy (to win it)," he said. "I didn't think I was going to make it (this year)."
Sandoval started on the road to MPG stardom in 2009 when he won the company's contest that awards a motorcycle or car to the driver with the best MPGs for the quarter. He began his fuel efficiency dynasty in 2018. He won the annual award again for 2019 and 2020 when he had gotten a whopping 15 MPG one month of that year.
He came "pretty close" to making it four in a row in 2021, but a safety issue derailed him. He came back strong this past year.
To win the prize, a driver must have the best MPG over a qualifying amount of miles and a perfect safety score. A driver can only win the quarterly vehicle once, but can take the yearly prize multiple times.
Although Sandoval has won it four times, it is getting harder and harder to win. Not only is he a conscientious driver, he's also one of the company's top driver mentors — he was the 2022 Trainer of the Year as well — and to get the next generation of drivers on board with the MPG program he has to spill his secrets.
The most important thing is taking time and paying attention to details – and those gauges. He does a thorough pre-trip inspection, drives a steady 55 mph, doesn't stop much and tries to avoid rush hours as much as possible.
"I really wanted to keep my secrets," he said, "but the reason most people know it is I teach a lot of people. Part of my training is to live the best way to win the car, because if someone who wins the car can win the $25,000."
He's derived a lot of those secrets from personal experience, but he also extends a nod to Jose Reyes, the company's MPG coach. "Jose knows a lot of things," Sandoval said. "He's taught me a lot."
The feeling is mutual.
"He takes it easy on the road and he maintains his vehicle," Reyes said. "He's always making sure his truck is running immaculate out on the road."
Sandoval readily admits the contest drives him to the get the best MPGs, but he's also conscious of what it means for the environment.
Going green is an important element of Mesilla Valley's culture. A typical 18-wheeler averages 6.5 miles per gallon, but MVT drivers average just under 9 mpg, using nearly 600,000 gallons of diesel less per month than the industry average based on 15 million miles of driving per month.
That translates to an annual savings for the company of about $22 million against the industry average, a savings that is passed onto drivers and customers alike. The difference between 8 and 9 mpg alone saves about $7 million.
"Oh, wow," a surprised Sandoval said when given the numbers.
The efforts MVT are making is a big boom to the environment. Its late-model, fuel-efficient trucks emit 16.7 million pounds of carbon dioxide less per month than the average fleet, substantially reducing the company's carbon footprint. Ten percent of its fuel is biodiesel, which emits zero pounds of CO2. (B20 fuel is provided at the company's main terminal in El Paso).
And his message is catching on.
"I teach like 100 guys or little bit more," Sandoval said. "I don't remember the last time they said I don't want to save fuel. All of us want to win the car."