Welcome to MVT's Monthly Rundown! Your one-stop source for the latest company updates, news, staff highlights, and driver spotlights. Let's dive into what's been happening in our world.
During Cancer Awareness Month, we want to express our heartfelt support for everyone dealing with this challenging journey and their loved ones. We understand the difficulties you face, and we're here to stand by your side.
Together, we can make a difference. By spreading knowledge and fostering a sense of togetherness, we're working towards a future where cancer is no longer a burden on anyone. Your bravery is a source of hope for us all, and we're honored to join you in this fight.
On Mondays, we kickstart the week with a dose of inspiration from our very own MVT Family. This month, Briane Vasquez shared a powerful quote by Helen Keller: 'I am only one, but still, I am one. I cannot do everything, but still, I can do something; and because I cannot do everything, I will not refuse to do something that I can do.' This quote reminds us that every small effort counts and that we all have the power to make a positive impact.
Feeling inspired? Send your quotes to mvtsm@m-v-t.com, and let's keep the motivation flowing.
Say hello to Nicholas Boyd, our first Nashville-based Equipment Control Coordinator! He's been part of our MVT team for over a year, making sure our trucks are up to standard. Wondering why he joined the MVT Family? Curious about his daily routine? Find out more in his video!
We're currently looking for Dispatchers to join our dedicated teams in El Paso, Laredo, and Nashville. If you or someone you know is interested in a stable job with good pay and a fantastic work environment, this is the chance you've been waiting for. For more information, visit MVTHoldings.jobs!
At MVT, we believe that respect is the cornerstone of a thriving and harmonious work environment. If you'd like to learn more about our commitment to respect in the workplace, you can find our Respect Policy at Help-Us-Improve.com.
Your voice matters, and we're here to listen. If you have any ideas, suggestions, or comments on how we can improve as a company, please don't hesitate to share them with us. You can send us an email at wecare@m-v-t.com, submit a form at Help-Us-Improve.com​, or conveniently drop your suggestions in any of our suggestion boxes located at all our terminals.
Let's celebrate the incredible achievements of our outstanding drivers! Your dedication to safety and excellence inspires us all. We believe many more of our drivers can follow your path to greatness. Keep up the fantastic work and thank you for making our roads safer!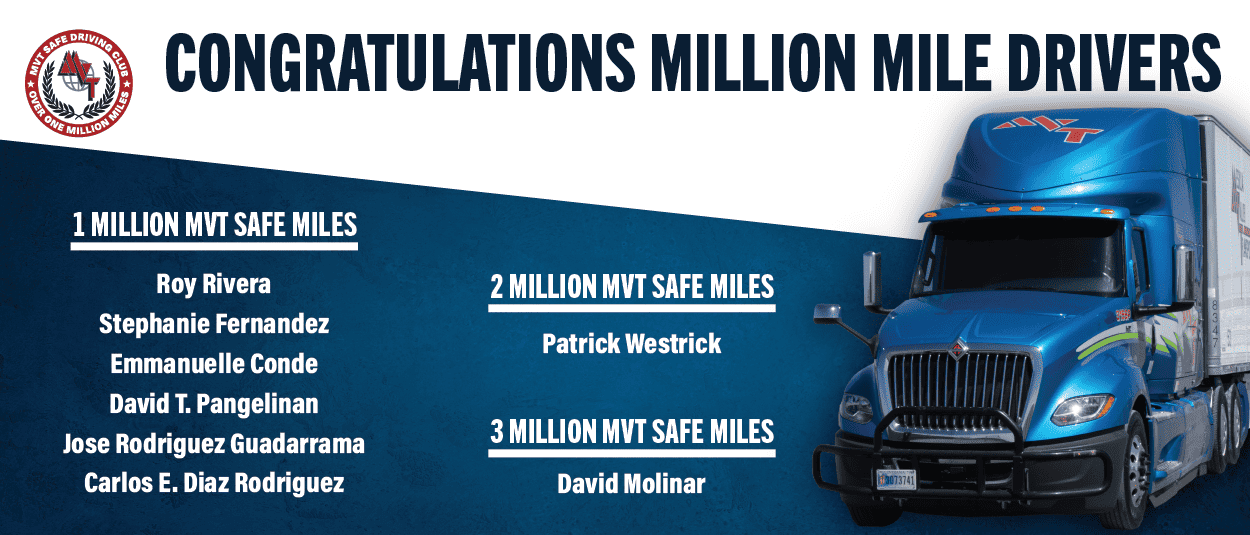 As we wrap up, we want to thank each and every member of our MVT Family for your dedication, hard work, and contributions to our continued success. Remember to connect with us on Facebook, Instagram, Twitter, YouTube, TikTok, and LinkedIn to keep up to date with all things MVT. Until next time, stay safe, stay inspired, and keep on rollin'.