Welcome to MVT's Rundown. In this episode, we'll take you on a journey through the latest news, share inspiring stories from our MVT Family, and give you a sneak peek into what's to come. So, buckle up and join us on this exciting ride!
We want to show our appreciation for all of your hard work and dedication. Join us on May 22nd for our 2nd quarter Driver Appreciation Day. Come and enjoy a day filled with fun activities, delicious food, great music, and awesome giveaways at our Denver, El Paso, Laredo, or Nashville terminals.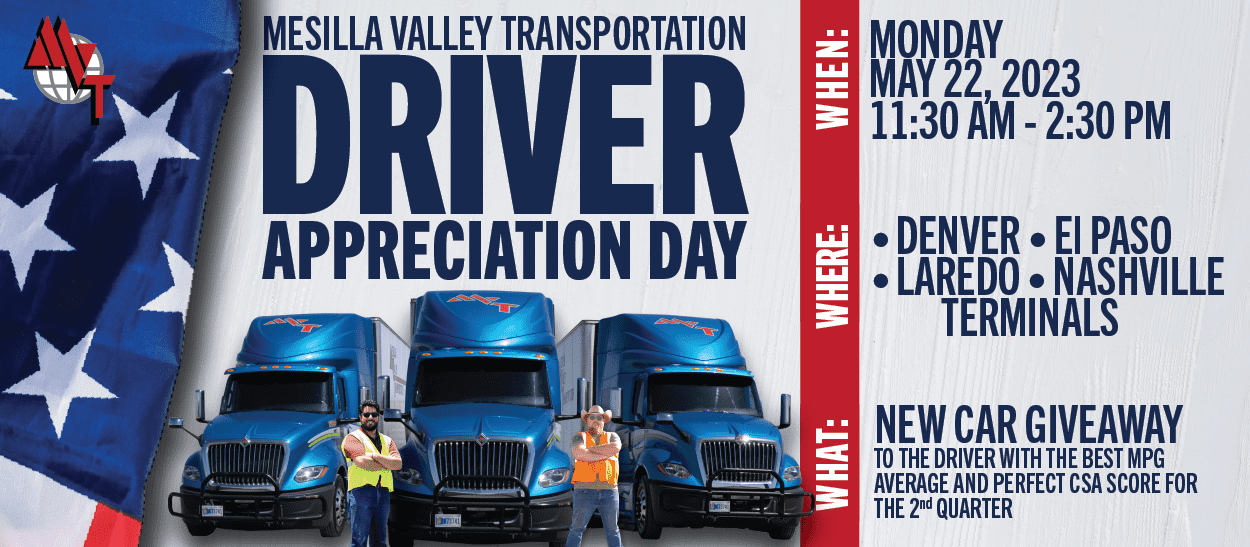 Most of our best drivers often come from our MVT Family's referrals. We believe that our drivers are valuable assets, and the best way to find skilled and dedicated drivers is through referrals from our own team. As a thank you, our Referral Program offers a $1000 bonus and gift cards to big-name retailers for every hired referral, with no limit on the number of referrals you can make. Send anyone looking for a job they'd love our way!
Are you an experienced driver with 18+ months of experience looking for a rewarding career opportunity? Join our team of driver mentors and mentors and help us shape the next generation of MVT drivers! As a driver mentor or mentor, you'll have the opportunity to share your knowledge and expertise with new drivers and help them develop the skills and confidence they need to succeed on the road. Not only will you be making a positive impact on the lives of others, but you'll also receive extra pay for every mile you run!
Let's give a round of applause to our remarkable drivers who have achieved significant milestones! Shoutout to Francisco Quinones Ontiveros for achieving 1 million safe miles, Roberto B. Lopez, Bartolo Montoya Gonzalez, and Robert J. Mathis for hitting the impressive milestone of 2 million safe miles, Juan De Los Santos, Edgar Corral, Ivan G. Quiroga, Jose R. Garcia, Mario Cisneros, Andy Fonseca, Israel Villalva, and Angel Licona for driving an amazing 3 million safe miles, Hector Mendoza for reaching 4 million safe miles, Charles Edgar Jones, JR and Alfonso Castaneda for achieving 5 million safe miles, and Carl Storey for driving an astonishing 7 million safe miles! We are proud to have you as part of the MVT Family, and we appreciate all the effort you put in every single day to make our roads safer!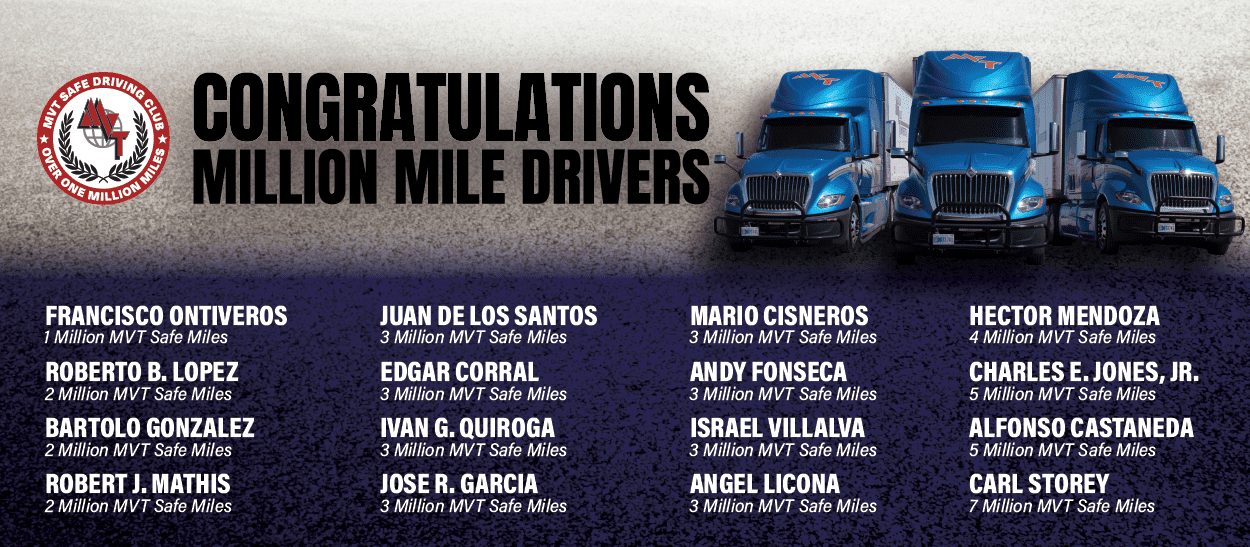 We care about our MVT Family's well-being, including our drivers, office staff, and everyone who works together to keep our wheels turning. Our Respect Policy outlines the behaviors we expect from everyone and creates a positive work environment. Download it at Help-Us-Improve.com and let's work together to promote respect, kindness, and inclusivity at work.
Don't miss out on hearing Ileanna Duran's amazing story of how MVT changed her life! Let her story inspire you to take the next step in your career journey. Check out her video now!
Join us as we listen to Driver Daniel Zamora's testimonial about his journey with MVT. Discover how he became a part of the MVT Family, and don't miss out on his tips and insights!
Get ready to take a deep breath and discover how to manage stress like a pro with our MVT Healthy Seconds Episode! Let's join forces and beat stress together, making our roads a more peaceful and safe place for everyone. Tune in now!
We're celebrating your years of service! To make sure you get your award on time, please check your mailing address on Engauge Self-Service​ and update it if needed. You can also enter your preferred name. Contact HR at (915) 791-4000 Ext. 4 if you need help.
We want to extend a heartfelt thank you to everyone who joined us at our Pet Adoption Event to find fur-ever homes. Stay tuned for more events like this in the future. We can make a difference together.
Stay tuned for more events like this in the future. Together, we can make a difference. Our blog features a variety of videos highlighting our company's latest updates, bonus and incentives program, and 401K benefits plan, all of which are designed to help you grow both personally and professionally. Thanks for watching MVT's Rundown! Stay up to date with all of our latest news and updates by connecting with us on Facebook, Instagram, Linkedin, Twitter, Youtube, and Tik Tok.