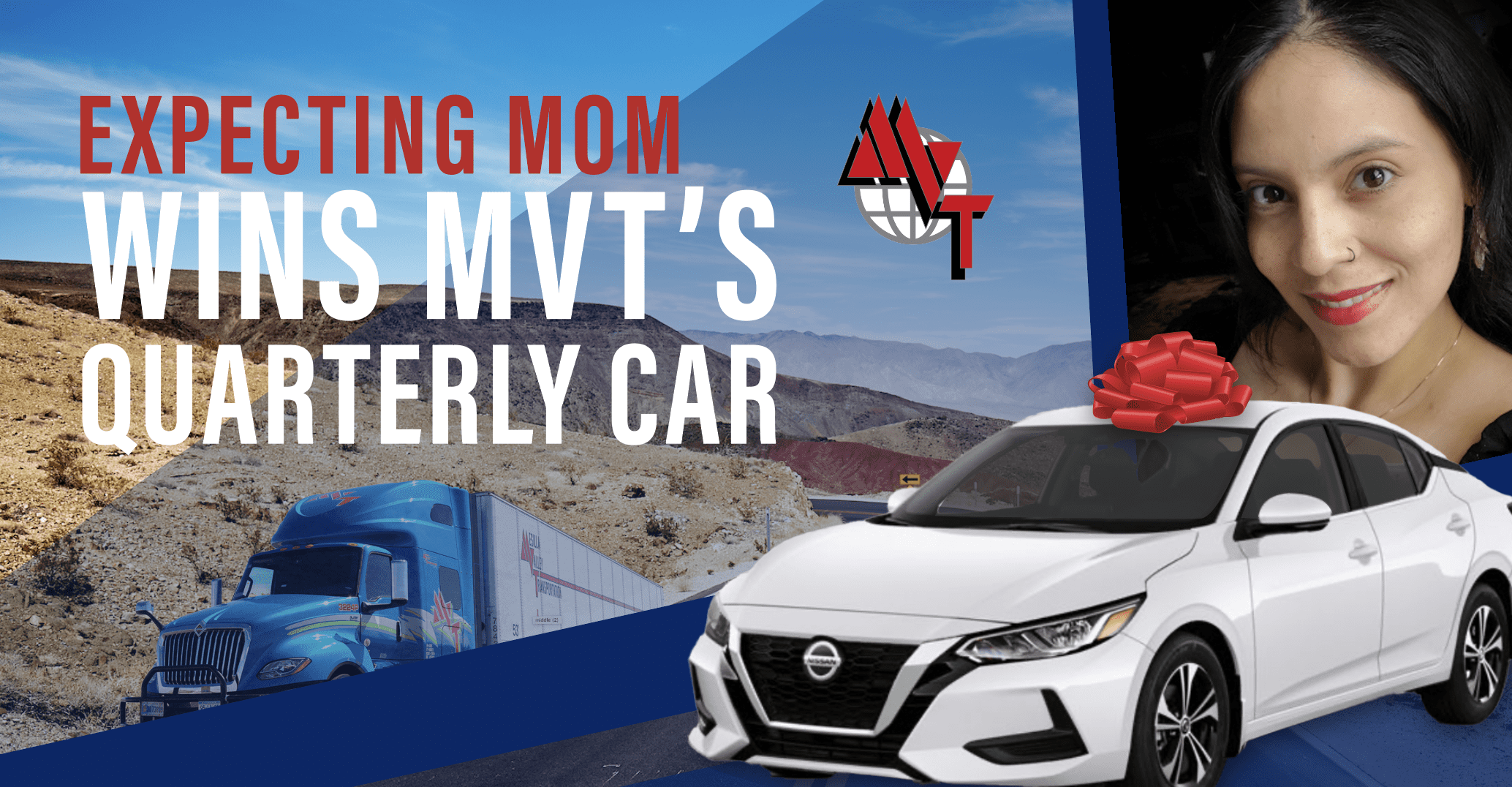 By Al Muskewitz
One of Royal Jones' greatest pleasures as Mesilla Valley Transportation's president and CEO is handing over a set of car keys every three months to a grateful company driver who delivers the best fuel economy in the fleet for the quarter.
Most of the time, the winner is at the facility to receive their prize because it's usually done in conjunction with a company celebration, but this time they couldn't be there, and for the reason that will become clear in a moment Jones was even more happy about it.
Ruby Ann Nieuwsma, who just celebrated her third year driving for MVT, was awarded a brand new Nissan Versa as the winner of the company's Q3 MPG contest. She couldn't attend the festivities as she was back home in Fort Worth awaiting the birth of her second son (Juan Martin Jr.) in mid-December, but that didn't idle her enthusiasm about winning.
"I was very excited," she said. "I was actually very shocked because I've been with the company three years now, so I really wasn't expecting it, especially since I'm going on leave. To get that call when I was already on leave it was very shocking."
Luckily, the rules of the contest are quite specific, and must be present to win does not apply. All you need to be eligible is a perfect safety score for the quarter and the most miles with the best MPG.
Even though she had been at the top of the mileage standings in her fleet for most of the qualifying period, with all she has going on in her life, "it never crossed my mind" that she'd be up for the car.
Nieuwsma, who drives a dedicated run from MVT's Saginaw, Texas, terminal to Grand Prairie to Houston and back, ran 35,760 miles with a whopping 10.07 MPG and 6.56 percent idle time. The industry average is about 6.5 miles per gallon, but the entire MVT fleet of new International TL's gets almost 9 mph across the board.
Fuel efficiency is such an important part of the Mesilla Valley culture, the company offers specialized driver training toward MPG and idle time. Following that guidance and common sense thinking are the keys to Nieuwsma's success.
"They're very keen about it," she said. "They send messages on the tablet every day about MPG and how to save fuel. If it were my own company, I'd be particular about that, too."
Because tire pressure has a lot to do with fuel mileage, she's always checking the pressures on her steers and drives. In addition, she fuels up at company-designated areas, always runs with her truck's aerodynamic wings open, sets the cruise control at 62-63 mph, and always shuts off the engine when parked.
Who wouldn't save fuel with all that going on, but still, her 10-plus MPG average caught her by surprise.
"That was awesome," she said. "I wasn't even paying attention. I was just going to work and coming back home. I guess at the end of it, I was more worried about my pregnancy than my MPGs, but I knew if I would just stay steady with how fast I would go, my MPGs should be good."
Actually, the car, just like the baby, was another addition to her family. Back in June her fiancé, the person responsible for her pursuing a CDL in the first place, was having car trouble so the couple got a new vehicle. By winning the prize, they now have an extra car in the driveway.
"If I would've just waited a little instead of taking out that payment, God would have answered my prayer about a car," she said.
The quarterly car isn't the only way the company recognizes its MPG champions. It also awards an annual $25,000 bonus to the driver with the best MPG in the fleet for the year. Roberto Sandoval won that with an eye-popping MPG that was nearly double the industry average.
The thing is, you can only win the car once. Drivers can win the yearly prize multiple times. Sandoval won that for the fourth time this year. And that gave Nieuwsma something to think about.
"Now that I won the car and I know I'm capable of winning it, now my goal is I need to get that 25 grand," she said.